Thermatite Doors Sydney, Newcastle, Central Coast & Mid North Coast
A durable, energy-efficient sectional door with high strength to weight ratio. Our exclusive process fills 100% of the door's interior space with energy saving polyurethane foam insulation to deliver exceptional R-values. This process also provides superior foam density for excellent structural integrity.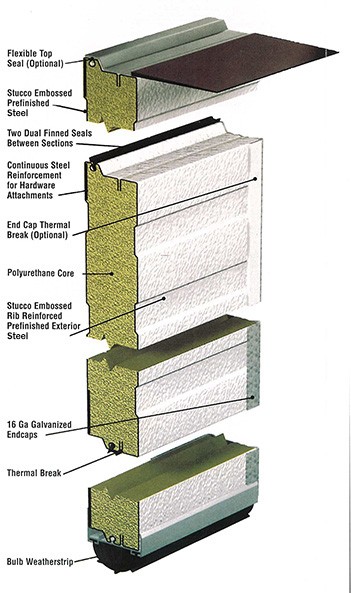 SECTIONS:
Insulated sections fabricated from prepainted, hot-dip galvanized steel, steel sheet; with rigid polyurethane insulation core, CFC-11 free, face sheet stucco-embossed and rib reinforced
Sections thermally broken, steel-polyurethane-steel sandwich formed by continuous process.
Sections formed with ship lap joint.
1.6mm (16ga) galvanized steel endcaps.
Face sheet thickness: 0.41mm (24ga)
Sectional thickness: 51mm
REINFORCEMENT:
Neoprene bulb weatherstrip with continuous aluminium retainer full width of bottom of door.
Two dual finned seals between sections.
FINISH:
Two coated, baked-on paint system on exterior side, primer and polyester finish coat – white.
DESIGN:
Door design to meet industry standard windload.
OPTIONS:
Glazing:

Full vision glazing section with 12.7mm thick insulating glass or 3mm clear float glass, finish white aluminium.
305 x 610mm dual acrylic thermal set in molded gasket.
610 x 152mm or CPL-610 x 203mm clear float glass sealed unit set in molded frame.864 x 407mm sealed glass unit set in molded frame.

Combination PVC step plate and lift handle.
Exhaust port 75mm (100mm) diameter.
Neoprene top weatherstrip for full width of door.
Full height thermal break and anti-friction strip for galvanized endcaps.